Well, my tomatoes are growing and changing colour.  woo hoo!  I've staked one of the bushes with a small branch that's fallen off a tree nearby. Hubby thinks he might have some stakes somewhere but since this is only a small tomato bush, I'm not worried.  The other bush hasn't progressed as far yet, although it does have some tomatoes on it.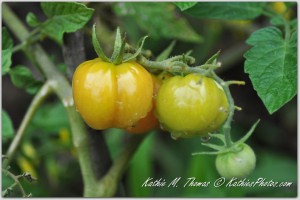 The potato plants I transplanted suffered a couple of hot days without rain but I watered them each day and they have survived and are now standing straight.  We've had rain again which helps.  The broccoli and parsley are growing well too.  Got lots of weeding to do in that area still but our weather has either been very hot, or very wet, so not really a good time to work in the garden. Perhaps on the weekend.
Our neighbour is giving me some salvia plants she's potted (she's with the Salvia society and her garden is filled with them) so I need to find a spot for those as well – I know how big they can grow.  There's something special about gardening – it gives you a good work out. Did you know 30 mins of gardening is equivalent to 30 mins of a brisk walk?  And there's something satisfying about inspecting your work and seeing it grow, almost before your eyes. I love it!